Around 1993, Heidi, designer, baker and soul of Rumbletum Café & Gifts, honed her unstoppable entrepreneurial spirit. She began with folk art painting on little boxes and other household items as gifts to our family and friends. This lead to small craft shows around the Kitchener/Waterloo area. As often happens with art, Heidi's style evolved and became more focused on a line of hand painted children's clothing. This lead to larger, further away craft & gift shows, and early morning market booths.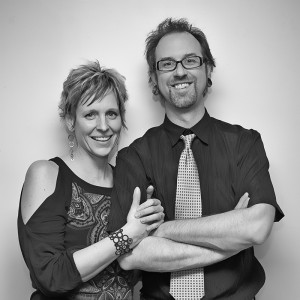 In 1998, we purchased a house in small town Heidelberg. The house featured a small, enclosed front porch that Heidi immediately saw as potential retail space. As per her vision, The Crafter's Closet was born. It was larger than a closet, but not by much. Heidi's hand-painted clothing pieces were featured on their own display, we added some new painted additions here and there, and supplemented our inventory with some wholesale items for resale as well.
After two years in our Heidelberg shop, we had the rather unexpected opportunity to buy Heidi's childhood farm. As a self proclaimed city boy, I was hesitant to begin country living, you know, with septic systems and all that strange stuff. However, the smell of fresh cut hay, the hazy fields on a hot summer evening, and bonfires in our own backyard have changed my way of thinking a bit. Let's just say, I'm more of a country boy now.
That entrepreneurial spirit of Heidi's was still alive and well, and after a major renovation of the butcher shop located on the farm, a new retail space was born: The Crowsnest. This space was a little bit roomier than "the Closet," and now we were beginning to sell home baked goods occasionally too!
2004. Heidi came home one day talking about a building up for rent in the town of Conestogo. It was a five minute drive from our house, and Heidi of course, was thinking of opening up a café there. Well, before I knew what was happening, we were signing a year lease. We spent the summer ripping walls down, rewiring, setting up a kitchen, learning about GST & PST, thinking up a name for our new shop, learning about coffee (heck, I don't even drink coffee – what are we doing?!), figuring out the cash register with it's vast array of buttons, as well as trying to spend time with our kids. We survived the summer (barely) and Rumbletum Café & Gifts opened it's doors for business on September 17th, 2004.Within the year, we had rented the upstairs portion of the building to add more retail space for various giftware. We focused mainly on coffee and homemade desserts for the first year, then expanded to lunch after numerous customer requests.
Two years flew by, and a house came up for sale just down the street from Rumbletum, in Conestogo. We took a quick, just-for-fun tour through the open house that quickly turned into deciding that it was the perfect space for Rumbletum. Our old building was a good start but, but we wanted our own space.
The Fall of 2006 was a chaotic one. We had moving sales, a parking lot installation at the new place, painting and renovations. We opened our doors to the new and improved Rumbletum Café & Gifts on February 1st, 2007.
This new location is the perfect place for us. It has a cozy, welcoming vibe, and we have made so many friends that have enriched our lives so much, it makes coming to work something we look forward to.
Who will we meet today? Stop by sometime and say hello.